According to the divine plan, for the effective administration and vocation promotion the congregation was divided and formed as Mary Matha Province Kozhikode and San Jos Province Kannur on 15th April, 1991. Sanjos province was inaugurated in the Little Flower Convent, Kottoor on 23rd June 1991.
At present Sanjos provincial house is situated 2 kms away from Kannur bus stand. It is in the parish of Holy Family, in the Archdiocese of Thalassery. The blessing of the convent was officiated by Archbishop Mar George Valiamattom on 2nd May, 1992. Sr. Laetitia, Sr. Digna, Sr. Starly, Sr. Rosalia, Sr. Fincy, Sr. Lucy Jose, Sr. Mary Jose and Sr. Tesin Andrews are former provincial Superiors and they have contributed their service for the betterment of the human society, and to enrich others. At present Rev. Sr. Ancy mathew with her council lead the province. St. Joseph is the patron of the province and 1st May is celebrated as their province day. A service of vital importance that they offer humanity is the proclamation of the Word and witness to the gospel.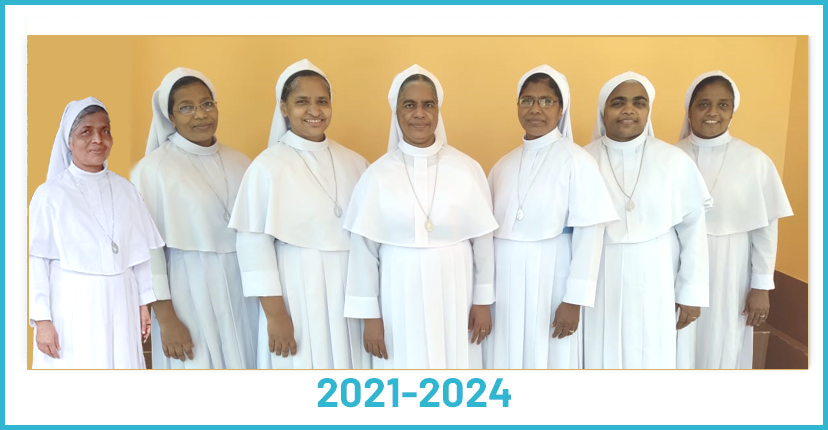 Former Provincial Team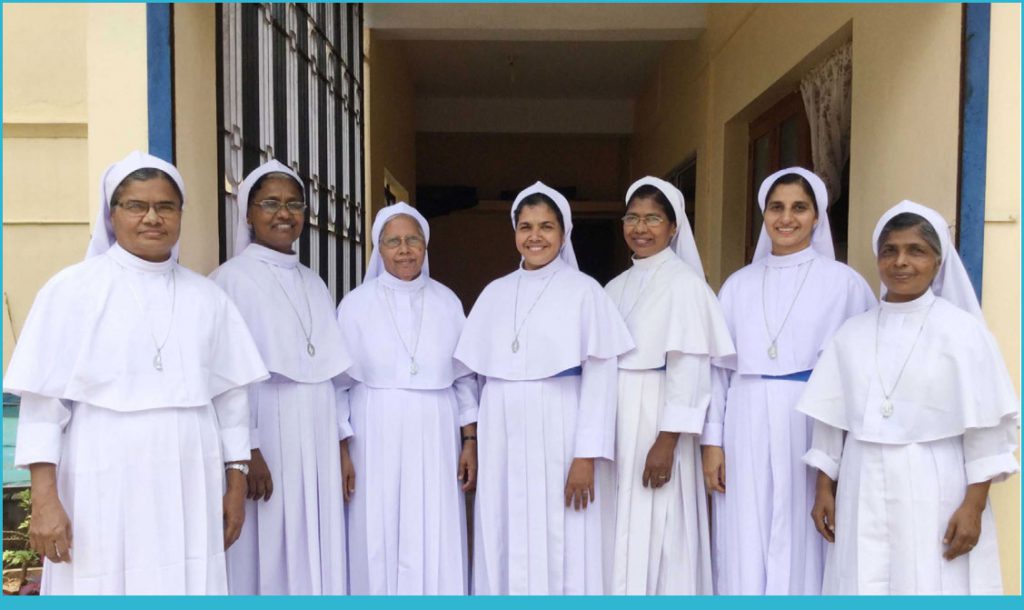 2019-2021
SAN JOS PROVINCIAL HOUSE
CIVIL STATION P.O
KAKKAD ROAD
KANNUR (DIT) , 670 002.
Email id: msmisjosknr@gmail.com
Santom Bhavan
Adottukaya, Malakallu P.O, Kasaragod Dt, Pin. 673522.
Amalamary Convent
Aryaparamba, Vayannur P.O, Kannur Dt, 670650 .
MSMI Sisters
Hofstiege - 4, 48455, Badbentheim, Germany
MSMI Convent
Vinzens Pallotti Str. 20 , 51429 Bergisch Gladbach, Bensberg , Germany
Lourdegiri Convent
Channanakkampara P.O, Payyavoor Via, Kannur.(Dt) 670 633.
Mary Matha Convent
Charal P.O, Kilianthara (Via), Kannur (Dt) 670 706.
Navajyothi Convent
Chully P.O, Kasargod (Dt.), 671 533.
Vimala Mary Convent
Edapuzha P.O., Payam Via, Kannur 670 704.
Deepthi Bhavan
Ennapara, Thayannur P.O, Kasargod (Dt) 671 531.
Mount Sinai Convent
Ettupara, Nellikutty P.O, Kannur (Dt) 670632.
St. Paul's Convent
Gangayal, Jammu , J.K.State 180010.
Wilhem-Busch-Weg2
49163 Bohmte-Hunteburg, Germany .
Fraternita
betania, Viale, Italia no-30, 480123 Marina Romea
Ravenna, Italy.
Little Flower Convent
Sreekandapuram P.O, Kottoor, Kannur 670 631.
Fathimagiri Convent
Kanjirakolly P.O, Payyavoor, Kannur (Dt) 670 633.
Ranipuram Convent
Kannivayal P.O, Cherupuzha , Kasargod (Dt) 670 511.
Yesu Bhavan Convent
Chunda P.O, Cherupuzha , Kannur (Dt) 670 511.
Pushpasanu Convent
Marygiri, Therthally P.O, Kannur (Dt) 670 571
Vijayalayam Convent
Marypuram, Karivedakam P.O, Chengala ,Kasargod (Dt) 671 541.
MSMI Convent
Mattathurkunnu P.O, Mattathur, Thrissur (Dt), 680684.
Kliniken Maria Hilf
Staufen Str.-15, 41061-Monchengladbach, Germany.
Vimalagiri Convent
Nellikutty P.O, Chemperi, Kannur (Dt) 670 632.
Zion Convent
Nellikutty P.O, Chemperi , Kannur (Dt) 670 632.
Sooriagiri Convent
Nirmalagiri P.O, Kuthuparamba, Kannur (Dt.) 670 701.
Vimal Jyothi Convent
Paduppu , Sankarampady P.O, Chengala ,Kasargod (Dt) 671 549.
Pavanathma Bhavan
Pariyaram P.O., Embette, Kannur (Dt.) Pin: 670502.
Snehagiri Convent
Randamkadave P.O, Kilianthara, Kannur (Dt).670 706.
St. Joseph's Convent
Rayrom P.O, Alakode , Kannur (Dt), 670 571.
Santhigiri Convent
Santhinagar, Manikadave P.O, Kannur (Dt) 670 705.
Nirmala Convent
Thalasserry, Kannur (Dt), 670 101.
Christugiri Convent
Thermala, Parikalam P.O, Kannur 670 705.
St.Mary's Convent
Kodassery P.O, Thazhoor, Trichur (Dt)630 725.
MSMI Convent
1079,E/1, Flat No. C-1, Ward No.1.Sardar Trilock, Singh Appartment, Mehrauli, New Delhi 110 030.
MSMI Convent
S8/57 Sophia Apartment, Abhayakhand IV, VISHALI-(Delhi), Indirapuram, Ghaziabad, U.P.201010.
Sangeorgia Nivas
Sreekandapuram P.O., Near Govt. High School, 670631.

SANJOS PROVINCE THALASSERY-2015
State / Country
Diocese
Houses
No. of Sisters
Kerala
Thalassery
Irinjalakkuda
26
02
187
16
Jammu
Jammu&Sreenagar
01
04
Delhi
Faridabad
02
08
Germany
Kolon
Aachan
Osnamurg
01
01
02 
09
06
07
Italy
Ravenna
01
03
Total
 
36
240
INSTITUTIONS
Charitable Institutions :
1.Pushpa Nivas Balabhavan – Nellikutty
2.Sanjos Balabhavan – Marypuram
Dispensaries:
Kristhugiri Ayurvedic Dispensary – Thermala
School:
1.Cherupushpam U.P. School – Therthally, Marygiri
2. SanGeorgia Special School – Sreekandapuram
Nursery:
1.St. Alphonsa Nursery – Ettupara
2.St. Mary's Nursery – Mattathur
3.Play School & Crèche – Mehrauli-Delhi
Press:
Vimala Offset Press-Thalassery
Retreat Center:
Zion Retreat Center - Nellikutty
Tailoring Centers:
1. Nirmala Tailoring Center –Thalassery
2. St. Mary's Tailoring Center –Thazhoor
Boarding:
1.Yesubhavan –Koluvally
2.Sangeorgia –Sreekandapuram
3.Lourdgiri - Chanadanakampara
4.Little Flower – Kottor