For the efffective functioning of the administration of the MSMI congregation it was divided into two provinces on 15th Apri,l 1991. They are Mary Matha Province, Kozhikode and San Jos Province, Kannur. On 22nd April, 1991 Mary Matha Province was inaugurated at the formation house, Gethsemane Convent, Maloorkunnu by Msgr C. J. Varkey. Slowly the provincial house shifted to Paroppady. Mary Matha provincial house situates 6 kms away from Kozhikode town on the route to Wayanad in the parish of St. Antony, paroppady in the diocese of Thamarassery. On 24th July 1993, bishop late Mar Sebastian Mankuzhikary laid the foundation stone for the new provincial house and the blessing of the new house was officiated on 22nd April, 1995 by late Msgr Francis Arupara, the then administrator of Thamarassery Diocese.
Blessed Virgin Mary is their Patroness and they celebrate 8th September as their province day. Just as Mary is their protecor, the Holy Spirit is their ultimate guide in their never ending spiritual journey. Rev. Sr.Giles, Sr. Marietta, Sr.Little Flower, Sr. Jean Mary, Sr. Susan, Rev.Sr. Johncy, Rev. Sr. Tilcy Mathew were the former Provincial Superiors of the province. At present
Rev. Sr. Delsy Philip with her council animates the province and maintains good administration.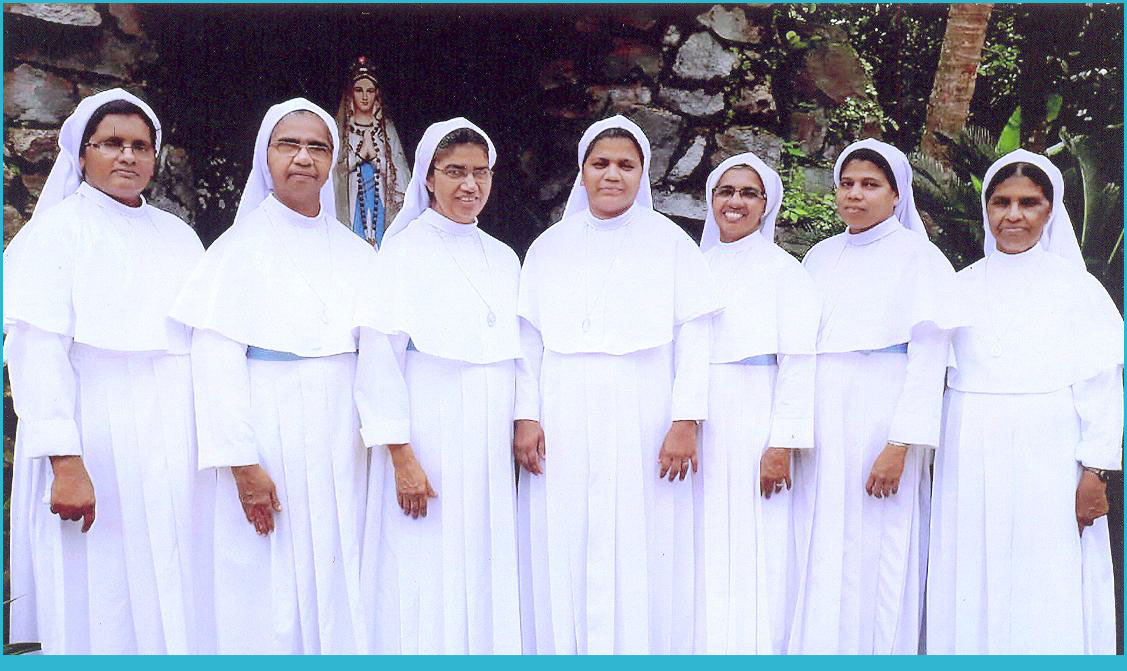 MSMI MARY MATHA PROVINCIAL HOUSE
MARIKUNNU P.O
PAROPPADY, 673 012
KOZHIKODE (DIT)
Email id: marymatha03@gmail.com
Nirmala Bhavan
Chembanoda (P.O), Kozhikode (dt), 673 528.
 Asha Bhavan Convent
Erenhipalam P.O, Kozhikode (dt),673 006.
MSMI Convent
Balagarh Road, Hooghly P.O & (dt), W.Bengal, 712 103.
Holy Angel's Convent
Kuppayakode P.O, Kozhikode ( dt), 673 580.
6. G.R.C, Maloorkunnu, Marikunnu P.O, Kozhikode (dt), 673 012.
Assumption Convent
Pallikkunnu, Varandarapilly P.O, Thrissur (dt)
680 303.

Vimala Convent
Peruvannamoozhy, Kozhikode (dt), 673 528.
10. Amala Bhavan convent, Shirady (P.O), Gundya - D.K. (dt), Karnataka
574 229.
Maria sadan Convent
Varandarapilly (P.O), Varakara, Thrissur (Dt)
680 303.
Scuola Materna Divina Providenza
Via Don Minzoni,6, 44034 Copparo , Ferrara, Italy.
1842 Tierra Dulce, Unit- D- Edinburg, Texas 78539, U S A.
 M.S.M.I Convent
Addahole, Gundya ( P.O), Sheerady, D.K(.Dt), Karnataka
574 229.
Nirmalagiri Convent
Chamal (P.O), Kozhikode (dt), 673 573.
MSMI Convent
Chittanad, Manakkadave toll, Kumarapuram P.O, Ernakulam (dt),
683 565.

St. .Mary's Convent
Koomully, Modakkalloor (po) Atholy, Kozhikode (dt),
673315.
 Avilagiri Convent
Koombara Bazar P.O, Kozhikode (dt) , 673 604.
M.S.M.I Vijaya Matha Convent
D-504 Jain Park Plot.no.12 & 13, Sector- 36, Kamothe, Navi Mumbai, 410 209.
Jordania Convent
Nedupuzha P.O , Thrissur, 680 015.
St.Joseph's Convent
Panamplave P.O, Areecode, Malapuram (Dt), 673 639.
Amala bhavan
Puthencruz P.O, Eranakulam (Dt), 682 308.
M.S.M.I Convent
Mudaplassery, Vaniyambalam P.O, Malapuram (Dt), 679 339.
M.S.M.I.Jai Matha Convent
Poonam orchid D-301,304, Vaswant nagar, Near Virat Nagar
Virar (West), Thane, 401303.
 Ziani Venturini- Casa di Riposo
47011 Castrocaro Terme, Forly, Italy.
630 Easy Jet.dr,Stafford, TX-77477, USA.
Schwafoerdener Weg- 7, 27232 Sulingen, Germany.
Mariambika Bhavan
Laila P.O , Belthangady, D.K (Dt), Karnataka, 574 294.
Mary Matha Bala Bhavan
Chamal ( P.O), Kozhikode ( dt), 673 573.
Infant Jesus Convent
Karimugal, Ambalamedu (P.O), Ernakulam (Dt), 682 308.
St.Alphonsa Convent
Kunduthode (P.O), Kozhikode (Dt), 673 513.
Gethasemane Convent
Maloorkunnu, Marikunnu (P.O), Kozhikode (Dt) , 673 012.
M.S.M.I. Kripa Maria Convent
Shripal Avenue, a/402, St. .Francis Road, Oppo .Rahul International School, Nallasopara , 401 203, Thane (Dt), Navi Mumbai.
Anna Maria Home
Nedupuzha (P.O), Thrissur (Dt), 680 015.
Jeevan Jyothi Convent
Payyanad (P.O), Manjeri , Malapuram (Dt) , 576 124.
Mount Mary Convent
Poozhithode (P.O), Kozhikode (Dt), 673 528.
MorningStar Convent
Valook, Indira Nagar ( P.O), Kozhikode (Dt) , 673506.
Herz-Jesu Kranken Haus
Haupt Strasse-55, 51789 Lindlar, Germany.
Scuola dell Infanzia
on Minzoni, Via-xiv Giugno 1859 n-8 , 44011 Argenta -Ferrara, Italy.
 8735 Sarasota Woods, San Antonio, Texas-78250, USA.
States/Countries
Dioceses
Houses
Total No. of Sisters
Kerala
Thamarassery
Ernakulam
Thrissur
18
3
3
158
Karnataka
Belthangady
3
14
Maharastra
Kalyan
3
11
West Bengal
Kolkota
1
4
Germany
Kolon, Osnaburg
2
12
Italy
Ravenna, Forli
3
10
America
Chicago
3
6
Total
11
39
215
Institutions

| | | | |
| --- | --- | --- | --- |
| Schools | | Medium | Est. |
| St. Mary's H.S. Belthangady | | English |  2000 |
| St. Marry's public school, Koomully | | English | 2011 |
| Sanjos English Medium School, Kunduthode | | English | 2011 |
Nursery

| | | | |
| --- | --- | --- | --- |
| Avilagiri Nursery, Koombara | | English | 1990 |
| Sanjos Nursery, Kuppayakode | | Malayalam | 1992 |
| Sanjos Nursery School, Chembanoda | | Malayalam | 2015 |
| Assumption Nursery, Pallikunnu | | English | 1994 |
| St. Mary's Nursery, Varakkara | | English | 1999 |
Balabhavan / Old Age Homes
Anna Maria Old Age Home -Nedupuzha 17
Amala Balabhavan -Puthencruz 13
Mary Matha balabhavan -Chamal 29
Retreat Centres
Jordhania retreat Centre -Nedupuzha
Gethsemane retreat Centre -Kozhikode
Homeo clinic
Nirmala Clinic -Kulathuvayal
Jai Matha Homeo Clinic –Virar
Ashabhavan -Eranhipalam