The district of Wayanad is endowed with natural beauty and rich cultural heritage. Christu Jyothi provincial house stands in the central part of Bathery and it is in the diocese of Mananthavady. When the Mary Matha province was divided into 2 provinces; Christu Jyothi province chose Bathery as its hearquarters. Christu Jyothi Province was formed in the year of Great Jubilee 2000 and the province received the light of Christ and named as Christu Jyothi . On 6th February, 2000 the province started its activities at the Vimala Mary Convent, Pulpally. Later Christu Jyothi Provincial House was shifted to Bathery on 21st January, 2001. They celebrate Province's day on 20th May.
Sr. Innocent, Sr.Camilla and Sr. Lilly Jose, Sr. Benigna, Sr. Seena and Sr. Jossy Augustine were the former provincials who guided the province. At present province is animated by Rev. Sr. Little flower with her council. The meticulously ordered administrative system enables the province to meet all the challenges and possibilities of administration. For providing proper faith formation to children and youth they are actively involved in the various activities of the Church. Christu Jyothi radiates its light in 3 dioceses in India and 3 dioceses abroad.
Present Provincial Team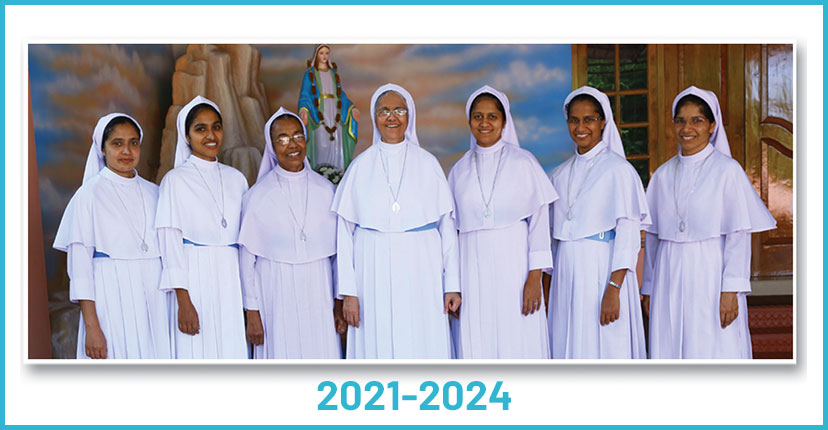 Former Provincial Team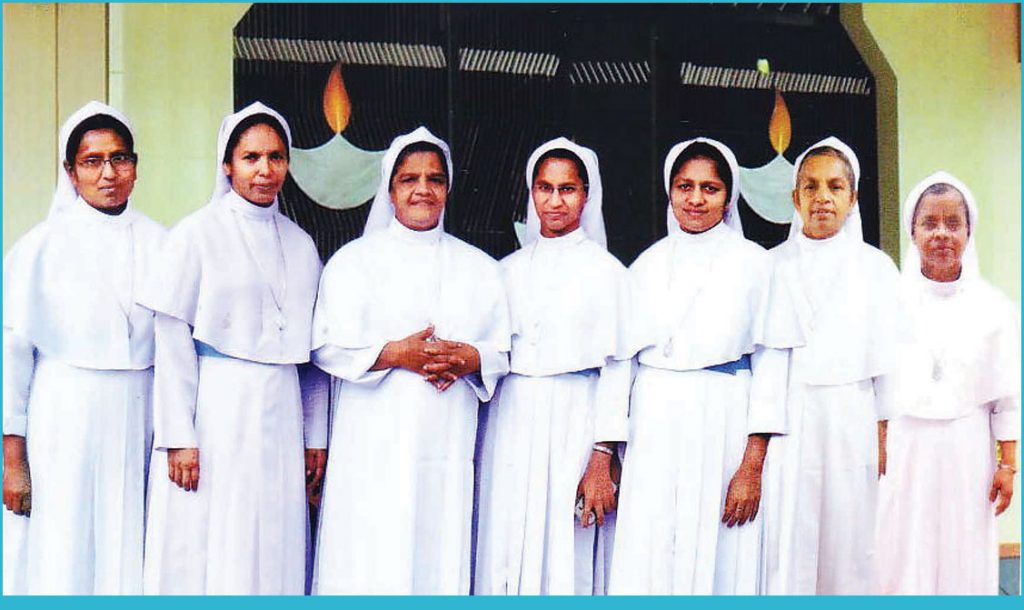 2019-2021
Infront of the provincial house there is a centre, Marian Villa, where they give prominence to the Social service activities. It is a place of consolation and relief for the flock, mainly to those who are affected by sickle cell anemia. There also functions an Ayurvedic dispensary.
CHRISTU JYOTHI CONVENT MSMI
KATTAYAD ROAD
S. BATHERY, P.O
WAYANAD (DIT) 673 592.
Email id: msmisbathery@gmail.com
MSMI Christu Jyoti Convent
Carmelaram P.O, Chikkabelandur, Bangalore -35.
MSMI Sisters
St. Jude's Church, Udayanagar, K.Narayanapura, Bangalore – 16, Karnataka.
Arunachal Pradesh
MSMI Convent,Sunpura
C/o KBM School Sunpura
Sunpura P.O, Lohit (Dt)
ArunachalPradesh
PIN79211
Pushpagiri Convent
Gudalloor Bazar P.O, Nilgiris Dt, 643 212, Tamil Nadu.
Gordeler Str. 21, 49565 Bramsche, Germany.
Senioren Zentrum Krefeld
Wilmendyk 78a, 47803 Krefeld, Germany.
Indische Ordensschwestern
Burgstr.8, 48529 Nordhorn, Germany.
Indische Ordens Schwestern
Haus St.Franziskus, Kondrad Martar-WEG-3, 51688 Wipperfurth, Germany.
Bethania House
Heggadde P.O. Sakalespur, TQ, Hassan (Dt.), Karnataka, 573 145.
Vimala Nivas Convent
Jambunatha road, Bellary (Dit), Hospet-583 201, Karnataka. 13.
Piazza Golsi -11, 20081 Abbiategrasso, Milano, Italy.
Suore Missionaria di Immaculata
Oratorio San.Luigi Conzaga, Via Manzioni- 23, 20031 Binzago di Cesano Maderno, Milano, Italy.
Fondazione Castellini di Melagnano Onlus
Via Cavour 21, Melagnano – 20077, Milano, Italy,
Marie Stella Convent
Kadalmade P.O, Vaduvanchal, Wayanad Dt, 673 581
Ephesus Bhavan
Kandali P.O, Hassan Dt. 573 217, Karnataka.
Alphonsa Bhavan
Kayyoor P.O, Kottayam Dt.686 651.
Maryknol Convent
Kunnaldy, Uppatty P.O, Nilgiris Dt. 643 241, Tamil Nadu.
Jyothir Bhavan
Makkiad P.O, Vellamunda(via), Wayanad Dt 670 731.
Cenacle Convent
Manathavady P.O. P.B.No. 25, Wayanad Dt. 670 645
Maria Nivas
Engineering College Road, Mandya - 571 401 Karnataka.
Rani Mary Convent
Marakave, Pulpally, Veliyambam P.O, Wayanad (Dit),673579.
Amalagiri Convent
Nilambur P.O, Malappuram ( Dit.) 679 329.
Maria Nilayam Hostel
Nilambur P.O, Malappuram Dt. 679 329
Carmelgiri Convent
Niravilpuzha,, Mattilayam P.O, Wayanad Dt. 670 731
Vimala Mary Convent
Gudalloor Bazar P.O, P.B. No. 13, Dharmagiri, Ovaly , 643 212.
Tamil Nadu.
Navachethana Convent
Dasandoddy.P.O. , Mandya.Dt. 571 430, Karnataka.
Vimala Mary Convent
Pulpally P.O, Wayanad Dt. 673 579
Vimala Mary Convent
Puthurvayal, Marthoma Nagar P.O, Gudalloor, Nilgiris Dt.
Tamil Nadu, 643 212.
Vimala Mary Convent
Thalapuzha P.O, Mananthavady, Wayanad Dt, 670 644.
Vimala Mary Convent
Valavoor P.O, Pala Via, Kottayam (Dit), 686 635.
States
Dioceses
Houses
Total No of Sisters
Kerala, Tamil Nadu
Mananthavady
Pala
14
2
100
11
Karnataka
Bellary
1
3
"
Mandya
6
24
Germany-Krefeld
Aachen
1
3
,,    -   Wipperfurth
Köln
1
4
,,  -    Nord Horn
Osnambrueck 
1
3
Italy -Abbiategrasso,Binzago,
Melegnano
Milan 
2
8
Arunachal pradesh
Miao
1
4
Total
9
30
163
INSTITUTIONS
Charitable Institutions
1.  Anugraha Childrens Home- Bangalore
2. Village girls' Hostel – Hospet
3. Play School- Hospet
4. Janasaukhya - Mananthavady
5. Olive -Well being and Psycho therapy Centre -Mananthavady
Dispensaries
1. Ayurveda Dispensary-Bathery
2. Mary knol Dispensary-Kunnalady
4. Pandithahally
Hospitals
1. Pushpagiri Mission Hospital- Gudallur
2. Vimala Mary Ayurveda Mission Hospital- Pulpally
Ladies Hostels
1. Carmelaram- Bangalore
2. Maria Nilayam- Nilambur
Media
Cris Media - Bathery